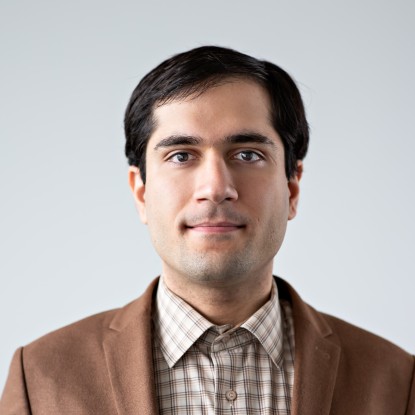 Contact
siavash.riahi@tu-...
work +49 6151 16-25726
fax +49 6151 16-25717
Work S2|20 314
Pankratiusstraße 2
64289 Darmstadt
After he completed his Bachelor's degree in Computer Science at the Sharif University of Technology in 2016, Tehran-Iran, Siavash Riahi received a scholarship from the International Max Planck Research School for Computer Science (IMPRS-CS) and started his Master's studies at the Saarland University. On November 2018, after completing his Master's degree, Siavash Riahi started his PhD at the Applied Cryptography research group at the TU Darmstadt. His research interests are security of cryptographic protocols, provable security, blockchain technology and related areas.
Curriculum Vitae
| | |
| --- | --- |
| 2012 – 2016 | B.Sc. Computer Science (Sharif University of Technology, Tehran-Iran) |
| 2016 – 2018 | M.Sc. Computer Science (Saarland University) |
| 2016 – 2018 | Member of the International Max Planck Research School for Computer Science (Saarland University) |
| 2018 – present | Ph.D. in Applied Cryptography (TU Darmstadt) |
Publications
Dziembowski, Stefan; Fabiański, Grzegorz; Faust, Sebastian; Riahi, Siavash (2020):
Lower Bounds for Off-Chain Protocols: Exploring the Limits of Plasma
Cryptology ePrint Archive: Report 2020/175 [Online edition: https://eprint.iacr.org/2020/175]


Aumayr, Lukas; Ersoy, Oguzhan; Erwig, Andreas; Faust, Sebastian; Hostakova, Kristina; Maffei, Matteo; Moreno-Sanchez, Pedro; Riahi, Siavash (2020):
Generalized Bitcoin-Compatible Channels
Cryptology ePrint Archive: Report 2020/476 [Online edition: https://eprint.iacr.org/2020/476]