RTG International Guest: Dr. Melek Önen (EURECOM)
2023/09/29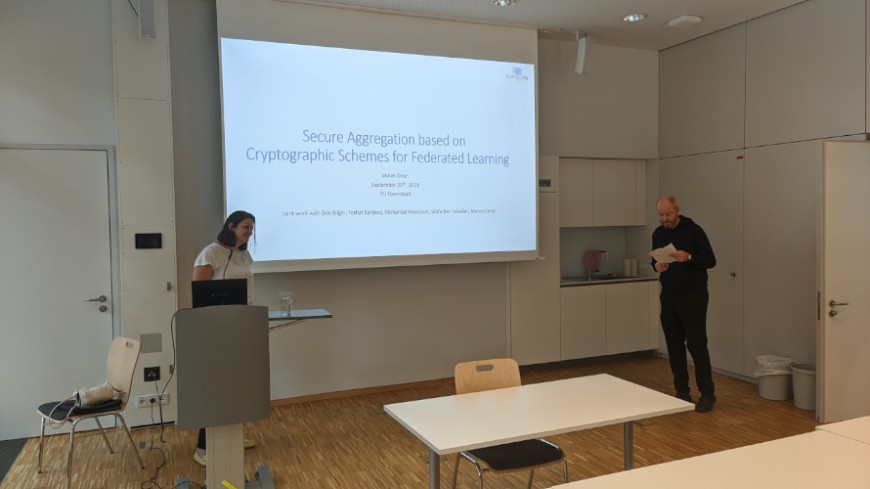 On Friday, September 29, 2023, Dr. Melek Önen from Graduate School and Research Center in Digital Science (EUROCOM), France, gave an interesting lecture on Secure Aggregation Based on Cryptographic Schemes for Federated Learning.
Secure aggregation consists of computing the sum of data collected from multiple sources without disclosing the individual inputs, and has been found useful for various applications ranging from electronic voting to smart grid measurements and more recently, federated learning. The latter technology emerged as a new collaborative machine learning technology whereby multiple parties holding private data contribute to the training of a global machine learning model.
In this talk, Dr. Önen addressed the suitability of secure aggregation based on cryptographic schemes to federated learning. She also presented the specific challenges raised by federated learning and some recent solutions targeting some of these challenges namely, scalability, security and robustness.
Melek Önen is an associate professor in the Digital Security department at EURECOM (Sophia-Antipolis, France). Her research interests are applied cryptography, information security and privacy. She holds a PhD in Computer Science from École Nationale Supérieure des Télécommunications de Paris (ENST, 2005) and obtained her "Habilitation à Diriger les Recherches" in 2017. She has been involved in many European and national French research projects.
This lecture was organized by RTG PI Prof. Dr. Thomas Schneider (ENCRYPTO), Department of Computer Science, TU Darmstadt for doctoral students of RTG Privacy and Trust for Mobile Users and members of Cryptography and Privacy Engineering Group (ENCRYPTO).