RTG's Female Student Award Winner Laura Hetz won the prestigious CAST IT-Security 2023 Award
2023/10/10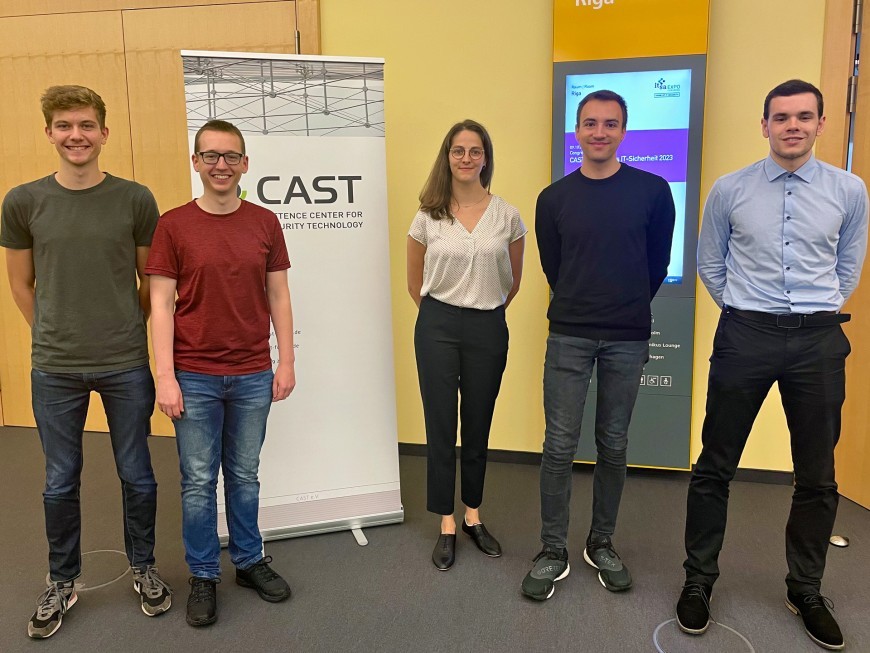 As part of the it-sa 2023 trade fair in Nuremberg, the CAST IT-Security 2023 Prize was awarded on October 10,2023 in two categories. In the category of master theses, Laura Hetz won the award for her thesis "Communication-Efficient Privacy-Preserving Mobile Contact Discovery". In her work, she dealt with a privacy-preserving, scalable contact discovery solution for popular messenger apps such as Whatsapp or Signal.
Laura Hetz studied at TU Darmstadt and her thesis supervisor was Dr. Christian Weinert, member of the ENCRYPTO research group headed by RTG Privacy and Trust PI Prof. Dr. Thomas Schneider The results of the thesis were published at the renowned conference 28th European Symposium on Research in Computer Security (ESORICS'23). Since August 2023, Laura Hetz is currently a PhD student in Applied Cryptography Group, ETH Zurich. In 2021, she was awarded the Female Student Travel Award of the Privacy and Trust Research Training Group for her outstanding academic achievements.
Among the bachelor theses, the six-member jury comprising experts from science and business chose Lukas Arnold as the winner for his thesis "Analyzing the iOS Baseband Interface of Qualcomm Chips". His work focused on the interface of the iPhone operating system and Qualcomm basebands, and developed the iOS app CellGuard, which warns users of possible attacks via basebands. Dr. Jiska Classen, member of Secure Mobile Networking Lab headed by RTG Privacy and Trust Prof. Dr. Matthias Hollicksupervised Lukas Arnold's thesis. Lukas Arnold is currently studying computer science (M.Sc.) at TU Darmstadt.
With this prize, Darmstadt-based non-profit association CAST promotes authors of outstanding theses in the field of IT security. The award money amounted to a total of 3600 EUR.