Today, Internet access is almost obligatory for citizens. Therefore, many households use wireless routers to provide easy Internet access for all inhabitants and various devices. In urban areas and regions with high population density a large amount of wireless routers exists.
We believe there is great potential for wireless routers in disaster recovery. Unfortunately, this infrastructure lies idle in case of a disaster. We investigate possibilities to harness this infrastructure by introducing an emergency switch for privately owned wireless routers. This switch can transition the routers into emergency mode creating a wireless mesh network, which can be used by first responders for means of communication and data exchange.
In the past, we have investigated the questions of how feasible such an emergency switch would be, how robust the resulting networks would be and what implications this would have.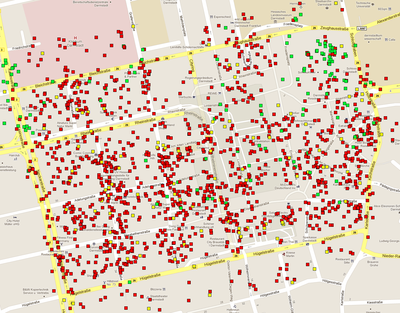 Selected Publications
Kamill Panitzek, Immanuel Schweizer, Dirk Bradler, and Max Mühlhäuser. City Mesh – Resilient first responder communication. In: 8th International Conference on Information Systems for Crisis Response and Management, p. 1-10, May 2011.
Kamill Panitzek, Immanuel Schweizer, Tobias Bönning, Gero Seipel, and Max Mühlhäuser. First Responder Communication in Urban Environments. In: International Journal on Mobile Network Design and Innovation, vol. 4, no. 2, p. 109-118, August 2012. ISSN 1744-2850.