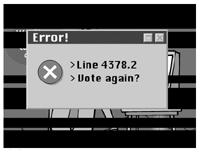 Remote electronic voting is a promising concept. Voters are enabled to cast their votes over the Internet, from arbitrary computers. It offers convenience and does not require geographical proximity on the election day. Thus, it has the potential to allure those groups of voters that regularly abstain from general elections. However, in order to implement free and secret electronic elections, the threats of vote buying and coercion against the voters need to be addressed.
In this research project, a cryptographic approach that deals with these issues is investigated. In particular, a cryptographic voting protocol is designed, evaluated and prototypically implemented that offers mechanisms to protect voters against coercion and thwarts vote buying.
The research was carried out together with the Cryptography and Computeralgebra group at Technische Universität Darmstadt. The associated diploma thesis was finalist of CAST Award IT Security 2006.
In addition, it lead to a cooperation with the BMWi-funded project "voteremote". The results of the cooperation were nominated for the OCG e|Gov Innovationaward 2011.
Publications
Stefan G. Weber: A Coercion-Resistant Cryptographic Voting Protocol – Evaluation and Prototype Implementation. Master's Thesis. TU Darmstadt, 2006. (online available)
Stefan G. Weber, Roberto Araujo, Johannes Buchmann: On Coercion-Resistant Electronic Elections with Linear Work. In: 2nd Workshop on Dependability and Security in e-Government (DeSeGov 2007) at 2nd Int. Conference on Availability, Reliability and Security (ARES'07). pp. 908-916, IEEE Press, New York, NY, 2007. ISBN 0-7695-2775-2. (online available)
Stefan G. Weber: Coercion-Resistant Cryptographic Voting: Implementing Free and Secret Electronic Elections. VDM Verlag, Saarbrücken, 2008. ISBN 978-3-639-04694-6. (extended abstract / online available)
Lucie Langer, Melanie Volkamer, Stefan G. Weber, Axel Schmidt, Johannes Buchmann: Towards Long-Term Free and Secret Electronic Elections Providing Voter-Verifiability in the Bulletin Board Model. In: 3rd Int. Conference on Theory and Practice of Electronic Governance (ICEGOV2009), pp. 203-210, ACM Press, 2009. ISBN 978-1-60558-663-2. (online available)
Awards and Nominations
Finalist of CAST Förderpreis IT-Sicherheit 2006 / CAST Award IT Security 2006
Nominated for OCG e|Gov Innovationspreis 2011 / OCG e|Gov Innovationaward 2011
Contact
If you are interested in this work, don't hesitate to contact Stefan G. Weber.