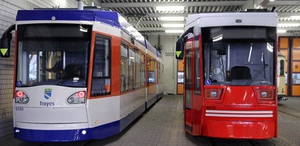 da_sense is Telecooperation's data platform for Smart Cities. da_sense offers easy read and write APIs for sensor data, advanced data processing and visualization. The focus of da_sense is to offer sensor data in high quantity and quality. This is achieved by correlation data on different data layers available in Smart Cities. We call this a "Hybrid Sensor Network". A hybrid sensor network basically consists of: (i) fixed sensor infrastructure (ii) wireless sensor networks and (iii) participative sensing.
da_sense stores and processes traffic data captured by inductive loops in front of traffic lights (Area (i)). These results are available at www.da-sense.de/.
A wireless sensor network deployed on trams in Darmstadt captures temperature data (Area (ii)) to generate micro climate maps.
We also developed Noisemap (Area (iii)), an Android application that measures noise pollution.
da_sense is capable of processing and capturing a wide variety of data and make it available for a larger audience at www.da-sense.de.