One of the main challenges in the development of E-Learning Systems are the heterogeneous needs of the learning individuals and groups. Ignoring these needs lead to a static E-Learning course which is identical for every user. Adaptive hypermedia are offering an answer to this problem. Learning technology is finally turning into an active element of the learning process and not only a passive provider of information like a television. Adaptive hypermedia systems build a model of the goals, preferences and knowledge of each individual user, and use this model throughout the interaction with the user, in order to adapt to the needs of that user.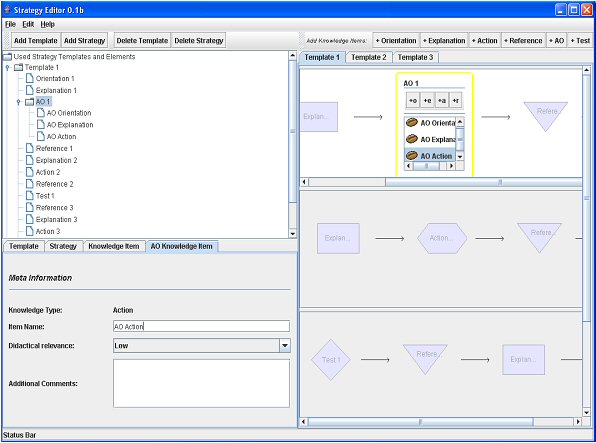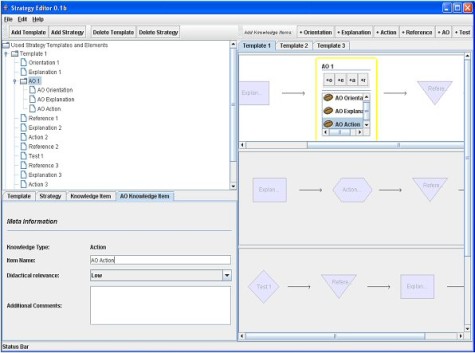 Motivation
Based on the experiences from different educational projects involving SAP LSO, the current set of learning strategies has been shown to be insufficient and not flexible enough for particular needs of diverse e-learning courses with different didactical approaches. It suffers the common problems of adaptive e-learning systems: the course authors tend "not to trust" the built-in learning strategies, or the learning strategies simply do not work the way the authors would like them to.
Basic concept
The central idea of the new concept is the introduction of strategy templates, in order to provide a good pedagogical background for online courses. The strategy template should help the courseauthor to create a good e-learning course with some solid pedagogical background, fitting specific requirements of the topic and concrete learning materials. It should also be suitable for use with the learner-centered adaptive approach of SAP LSO. In order to guarantee the epistemological pluralism for learners, each template should contain more learning strategies, from which the learner can choose the one best fitting her learning needs.
In the learning environment, the course will be dynamically adapted to a particular learner according to his or her choice (or preferences) of learning strategy and other relevant criteria (such as previous knowledge, preferred media type or knowledge type). However, this adaptation must be predefined in the strategy template by the strategy-designer and enabled in the particular course by the course author.
One of our main goals is to keep the learning and authoring environment as easy to use as possible, and therefore the new Strategy Editor module is visually oriented and does not require any programming skills. The requirement of visual representation for learning strategies is on the one hand opening the possibilities of authoring to wider spectrum of users; on the other hand, it also strongly restricts their architecture.
Former Project Member
Contact