TK plays a significant role in newly founded National Cybersecurity Research Center ATHENE
2019/12/06
On December 4, 2019, the National Cybersecurity Research Ce nter ATHENE was inaugurated in Darmstadt.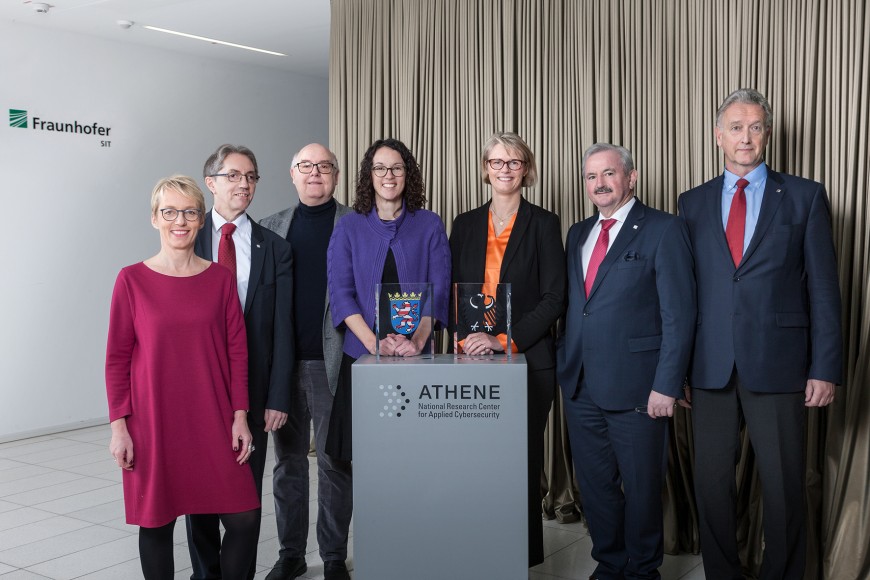 ATHENE is run by Fraunhofer-Gesellschaft, its research funds are split between the two pertinent Fraunhofer institutes SIT and IGD (together about 50%) and the two Universities (TU Darmstadt and h_da, together about 50%). On one hand, ATHENE is the follow-up to former cybersecurity research centers (CASED, EC-SPRIDE, CRISP) that were funded by the state of Hesse, the national ministry of education and research, or both. On the other hand, it is different from its predecessors in a very fundamental aspect: while the other centers were funded for a defined period of time, ATHENE is one of Germany's permanent national research centers.
ATHENE research is divided into missions, not departments, meaning that mission themes may and will change regularly, in response to the dynamics of the most urgent and promising Cybersecurity challenges. One of the missions, named QoSec, is headed by TK. QoSec stands for "Quality of Security", emphasizing the need to assess and quantify the security level attained by complex composed systems. QoSec will embark from (a) known approaches to formal assessment of security properties at the component level – which hardly scale to composites today – and (b) standardized development / assessment / audit procedures like those specified in the wide-spread standardized "common criteria" for IT security evaluation. Missions are subdivided into projects, and TK is also participating in QoSec on the project level, aiming at furthering and adopting our research on mathematically sound probabilistic assessment methods to Quality of Security themes.
TK participates in two further missions on the project level: in mission ABC (analytics based cybersecurity) with our Botnet defense research, and in mission Secure Urban Infrastructure with our research on heuristics and planning/simulation tools for cyberphysical infrastructures.