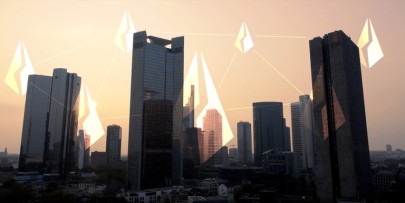 Funding
Federal Ministry of Education and Research (BMBF)

Topic
The ProChain project is developing secure, high-performance blockchain systems that have higher transaction throughput than today's systems.
Motivation
Due to the hype around Bitcoin at the end of 2017, blockchain technology has gained familiarity with many people. The great interest in Bitcoin and the other blockchain technologies has also shown that the technology still faces major challenges: Current blockchain systems are capable of only processing a small number of transactions every second. Users receive confirmation on transaction success only after a few minutes while paying high fees to record the transaction on the blockchain. Another challenge for the technology is the protection of user privacy, since by default all transaction data is stored publicly in the blockchain

Goals and Implementation
With the ProChain project, these hurdles are to be overcome by developing so-called off-chain technology, where transactions can be processed without constantly involving the blockchain. Hence creating flexible framework conditions that do not need to be checked continuously. Overall, this enables a system than can carry out a large number of transactions
inexpensively in real time. The underlying blockchain is only involved if there is a dispute regarding a transaction. It then functions as a judge to resolve the dispute. Another advantage of the software solution developed in the project is the seamless interoperability between different blockchain systems. This in turn enables the development of decentralized applications across different technologies and thus across different business sectors.
Perun's off-chain framework is provably secure. By applying state of the art development techniques of IT security research, such as security proofs, i.e. formal analyses in a security model, security gaps are identified and circumvented at an early stage.

Innovations and perspectives
With the help of ProChain technology, payments of even the smallest amount can be cost-accurately settled with instant finality. This allows, for example, the use of blockchains in the energy sector: billing of electricity deliveries to electric charging stations can be carried out quickly, across providers at low cost. The use of the new technology also has the advantage that the transaction data remains confidential and cannot be viewed by the public. ProChain therefore combines the advantages of blockchains with a high level of data protection. Both new aspects enable the use of blockchains in completely new fields of digitalization and increase the mass adoption of blockchain systems.
Perun
The Perun framework is an open-source technology developed as part of the ProChain project for securely scaling any Blockchain and transaction system. The framework accelerates genuinely decentralized applications that perform at high-speed and low-cost by employing modern cutting edge cryptography to ensure high security and quality standards. More details can be found on perun.network and github.