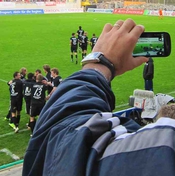 Mobile live video broadcasting has become increasingly popular as means for novel social media interactions. Recent research mainly focused on bridging larger physical distances in large-scale events such as car racing, where participants are unable to spectate from a certain location in the event. In this project, we advocate using live video streams not only over larger distances, but also in-situ in closed events such as soccer matches or concerts. We present CoStream, a mobile live video sharing system and present its iterative design process. We used CoStream as an instrument in a field study to investigate the in-situ co-construction of shared experiences during live events.
Teaser
Recommended external content
We have selected external content from YouTube for you and would like to show it to you right here. To do this, you must reveal it with one click. You can hide the external content at any time with another click.
I agree to external content from YouTube being shown to me. This may result in personal data being transmitted to third-party platforms. You can find more information in our Privacy Policy.
People
Niloofar Dezfuli
Jochen Huber
Max Mühlhäuser
Students
Sebastian Günther (BSc Thesis)
Florian Müller (Student Research Assistant)
Former Project Members
Simon Olberding (Doctoral Candidate, now at MIT Media Lab)
Manuel Weiel (BSc Thesis)
Manolis Pavlakis (Student Research Assistant)
Klaus Wilhelmi (Student Research Assistant)
Daniel Storck (Student Research Assistant)
Florian Kirchbuchner (Student Research Assistant)