Federal research minister and Hessian minister of science visit Darmstadt's center for cyber-security research.
2018/07/25
Federal minister Anja Karliczek and minister of state Boris Rhein visit CRISP.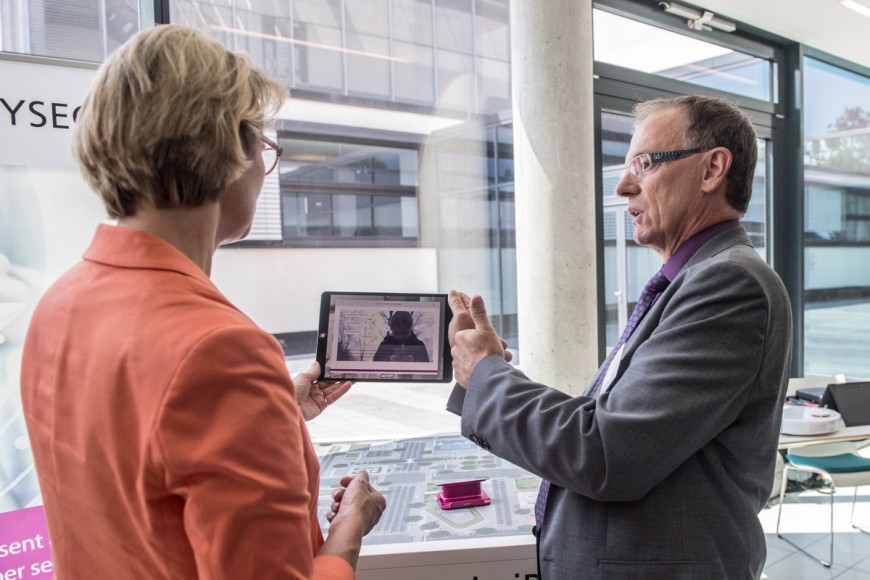 Federal minister Karliczek and minister of state Rhein visited Darmstadt's center for cyber-security research on 23 July. Current work of the four CRISP-partners TU Darmstadt, Hochschule Darmstadt, Fraunhofer-IGD and -SIT was shown at Fraunhofer-institute SIT (www.crisp-da.de). Minister Karliczek pleads for better communication of science to the general public. Therefore, she was accordingly interested when Professor Mühlhäuser presented the "Smart City Demonstrator" of the Cysec Profile Area of the Technical University of Darmstadt (see picture), in which many cyber-security projects at the TU Darmstadt in the overall context of a future smart city can be shown. The demonstrator is designed as an augmented reality application in 3D, which is visualized above a city map section of the Smart City on a tablet-PC. Minister Karliczek also showed great interest in the interdisciplinary research on privacy-friendly internet services within the Research Training Group "Privacy and Trust for Mobile Users".
Have a look at the current content of the "SmartCity-Demonstrator" by Cysec here (opens in new tab).