Motivation
With increasing digitization and the associated greater number of digital services and products, the requirements for responsible data handling have also risen sharply. On the one hand, there are stronger legal requirements (e.g., GDPR) that companies must adhere to, but on the other hand, customers are also placing more and more value on the correct and transparent handling of their data.
With the concept of Corporate Digital Responsibility (CDR), which is slowly spreading analogously to the already existing concept of Corporate Social Responsibility, there is already a strategy that includes the civic and social dimensions in dealing with data. However, especially for SMEs, the introduction of such a CDR strategy is associated with high costs and a lot of work due to the frequent lack of know-how.
The CDR-CAT project addresses this problem and offers a fully automated software solution that is free of charge for companies. The software automatically detects the correlations and potential contradictions regarding CDR topics in all available text sources of a company by means of argument and evidence mining and presents them clearly to the user. In addition, the project will initiate standardization processes for a generally applicable CDR standard and create teaching materials on the topic.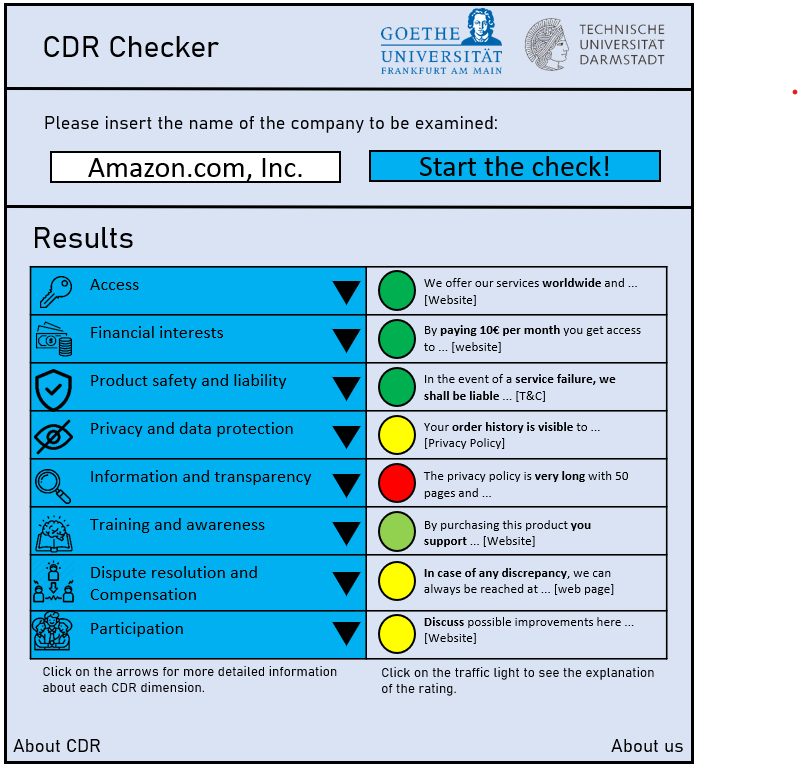 Goals
Development of an open-source demonstrator for the automatic analysis of a company's CDR dimensions based on argument mining and evidence detection.
Creation of a benchmark corpus distinguished by CDR dimensions based on different text types.
Creation of training materials and best-practice examples for the development of a CDR strategy and conceptualization of a CDR standard.
The project is funded by the Hessische Staatskanzlei – Ministerium für Digitale Strategie und Entwicklung [Eng. Translation: Hessian Ministry for Digital Strategy and Development].