Honorary Senators of TU Darmstadt
The title of Honorary Senator recognises special services for and in support of TU Darmstadt. These include strengthening TU's reputation as well as significant support for TU. An honorary senatorship cannot be conferred on TU members. It is awarded in the context of an academic ceremony following a Senate vote.
Görtz, Dr.-Ing. E.h. Horst
Neu-Anspach
Honorary Doctorates
Honorary Doctorates are conferred upon recommendation of a department. This rare honour is bestowed upon individuals whose excellent scientific or artistic performance has earned them special merit. Those honoured may not be members of TU Darmstadt. The Senate must agree to the conferral of the honorary doctorate.
Dam, Prof. Dr.-Ing. E.h. Andries van, Ph.D.
Barrington, Rhode Island, USA
Hopgood, Prof. Dr.-Ing. E.h. Frank R.A.
Wantage, Oxon
Hotz, Prof. Dr. Dr. h.c. Günter
St. Ingbert
Müller, Prof. Dr. Dr. h.c. Günter
Freiburg
Raffler, Dr. h.c. mult. Dipl.-Math. Hartmut
München
Straßer †, Prof. Dr.-Ing. Dr.-Ing. E.h. Wolfgang
Tübingen
Wahlster, Prof. Dr. rer. nat. Dr. h.c. mult. Wolfgang K.
Saarbrücken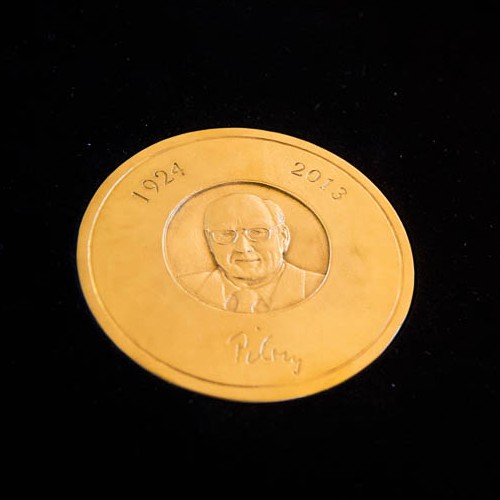 Picture: Gregor Rynkowski
Robert Piloty Prize
The Robert Piloty Prize is awarded for outstanding achievements and exceptional research and development work in the fields of computer science, electrical engineering and information technology as well as applied mathematics. The Robert Piloty Prize is generally awarded every two years. It is endowed with a total of 10,000 € and a medal. Read more about the prize and previous awardees.